A golden era of Hollywood emerges in Vancouver collection of vintage movie star photos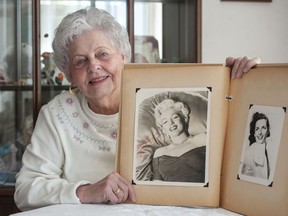 Joan Moore with her collection of autographed photos of movie stars from the 1950's, including Marilyn Monroe. Photo by Jason Payne /PNG
Growing up in the early 1950s, Joan Moore collected autographed photographs of movie stars.
Every Sunday, she would sit down with her friends, Bruceen McKay, Joyce Pradinuk and Kay Hassard, and send off letters to the Hollywood studios.
Most are autographed, and some are even personalized.
"To Joan, Warmest Regards, Marilyn Monroe," reads her most glamorous photo.
Moore said an appraiser on the PBS TV show Antiques Roadshow valued "the exact same picture" and autograph of Monroe at US$4,000 to US$6,000 several years ago. So she contacted The Vancouver Sun to see if it was the real deal.