Andrew Garfield mocks Will Smith's slap in viral video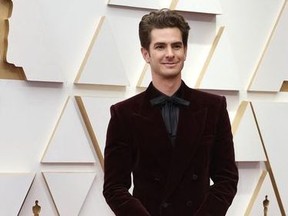 Andrew Garfield poses on the red carpet during the Oscars arrivals at the 94th Academy Awards in Hollywood, Los Angeles, Calif., March 27, 2022. Photo by ERIC GAILLARD /REUTERS
Even Andrew Garfield couldn't get over Will Smith's smack attack on Chris Rock at Sunday night's Oscars.
The Academy Award-nominated star went viral this week after a Everytime he's nominated for best actor, something big happens at the Oscars," one person commented. "2017 – wrong announcement of best picture; 2022 – Will slapping Chris."

"Andrew needs an Oscar for so many things but he should get it with this mimicking alone," another added.