Automated plate readers nab drivers as SGI highlights driving offences
As of the end of January, there were around 61,000 people with suspended licences in Saskatchewan, according to SGI.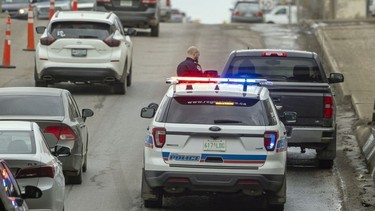 Cpl. Jason Wilkinson stands in front of a police vehicle equipped with an Automated Licence Plate Reader after pulling over a vehicle on Winnipeg Street in Regina on March 31, 2022. Photo by TROY FLEECE /Regina Leader-Post
The casual eye sees heavy traffic on a busy street. An Automated Licence Plate Reader sees fish in a barrel.
"Jeez, that's a hit," says Regina Police Service Cpl. Jason Wilkinson, having only just pulled over to the side of Dewdney Avenue.
Parked beneath an underpass on Winnipeg Street, Wilkinson waits as vehicles speed by on his left. He eyes an opening, and gets out to speak with the driver.
The truck's passenger, who has a valid licence, gets behind the wheel before the police officer cuts them loose.
Wilkinson has barely sat down when his computer pops off again. This is his life. The pace is normal, he says.