Barry Choi: How to invest in real estate when you can't afford a huge down payment
There are ways to own a house without a massive down payment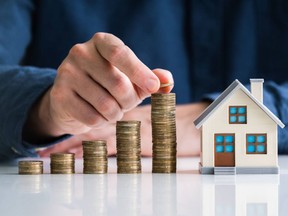 Andrey Popov/Shutterstock
As the cost of housing continues to rise, some people are feeling homeownership slip through their fingers. But just because you don't own your primary residence, that doesn't mean you can't invest in real estate. There are different options available, and not all of them require a massive down payment.
Real estate investment trusts (REITs) are a popular real estate investment option since they give you access to commercial properties, shopping malls, multi-unit residential buildings, and other investments.
The REIT operator purchases properties and collects rental income. Once all the expenses are paid, the profit is distributed to its unitholders monthly, quarterly, or annually in the form of dividends.
Purchasing REITs is easy since many are publicly traded on the stock market. Investors are attracted to REITs as you can often buy a unit for less than $20 (plus any trading fees). That's clearly appealing to anyone who wants to invest in real estate and doesn't have a substantial down payment. Plus, you don't need to worry about any closing costs or lawyer fees.
Article content
Investment properties
If you prefer to own something physical, purchasing an investment property might appeal to you since it can generate income. With an investment property, you're not restricted to where you live. You could purchase one in a city where prices are lower and you can afford a down payment.
That said, you are the landlord, so you're responsible for the cost of maintenance and repairs. If you've purchased the home in another city, you may need to hire a property manager to take care of things for you.
You also need to consider the down payment. When purchasing a property that's not owner-occupied, in Canada the down payment must be at least 20 per cent. You also wouldn't be able to take advantage of some available benefits aimed at new homeowners. For example, rental properties don't qualify for the Home Buyers' Plan, which allows you to withdraw up to $35,000 from your Registered Retirement Savings Plan (RRSP) for a down payment.