Biden invokes Cold War powers to boost EV battery production
Invoking the act provides key funding for existing operations, productivity, and safety upgrades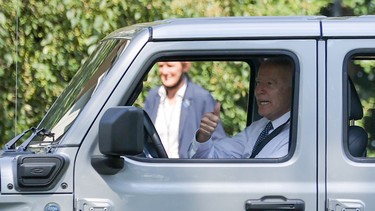 U.S. President Joe Biden gives a thumbs-up to guests while driving a Jeep Rubicon 4xe at an event for clean cars and trucks, and signs an executive order on transforming the country's auto fleet at the White House in Washington, U.S. August 5, 2021. Photo by Jonathan Ernst /Reuters
The Biden administration announced it will invoke Cold War powers to boost domestic production of materials for batteries needed to power electric vehicles and the transition to renewable energy, a move intended to improve U.S. competitiveness in a market dominated by China.
The decision adds lithium, nickel, cobalt, graphite, and manganese to a list of items covered by the 1950 Defense Production Act. It's the same authority used by former presidents Donald Trump to spur mask production during the pandemic and Harry Truman to make steel for the Korean War.
Meanwhile, the Senate Energy Committee, whose chairman is West Virginia Democrat Joe Manchin, convened a hearing Thursday on producing critical materials domestically.