Borders busy on first day after COVID-19 test lifted for arriving travellers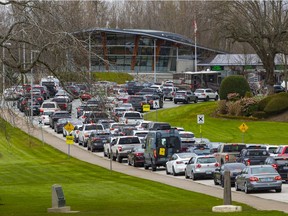 There was a long lineup April 1 at the Peace Arch border crossing in White Rock for vehicles entering the U.S. Photo by Francis Georgian /PNG
Washington state border towns were flooded with a sight they haven't seen much of over the past two years — B.C. licence plates — on the first day Ottawa dropped required COVID-19 tests at Canada's border.
"It is crazy, I have never seen the (Bellingham) Costco so busy, except maybe at Christmas," said Len Saunders, an immigration lawyer with dual citizenship who lives in Blaine, Wash. "The Costco was packed with cars, and the gas bar was busy. And this is a weekday."
As of Friday, neither was required for fully vaccinated arrivals.
The announcement was made two weeks ago but it coincided on Friday with a warning from Canada's chief public health officer, Dr. Theresa Tam, who said COVID is still circulating widely and we could see further waves of the virus this year. She said that as of Thursday, daily average case counts had increased by 28 per cent nationally, suggesting a resurgence is underway.
She advised Canadians to keep wearing masks and ensure vaccinations are up to date due to the risk of a rise in cases and in light of reduced public health measures. An increase in in-person activities, the presence of the BA.2 variant and waning immunity may have played a part in the increase in transmission.