Canada draw Belgium, Croatia and Morocco at FIFA World Cup in Qatar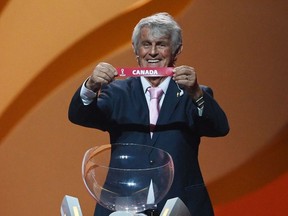 Former Serbian footballer Bora Milutinovic displays the name of Canada during the draw for the 2022 World Cup in Qatar at the Doha Exhibition and Convention Center on April 1, 2022. Photo by Franck Fife /Getty Images
The stage has been set for Canada at the 2022 FIFA World Cup in Qatar.
Canada will play Belgium, Croatia and Morocco in the opening round of the 32-team tournament, placed into Group F as the last country selected at the World Cup draw in Doha, Qatar on Friday.
"To have our team pulled out and to see that this is real and Canada is on the big stage now and we're ready to play in Qatar. We know the teams we've got, and we've got a wonderful opportunity ahead of us. Everything that came out of that draw was an opportunity for this country."
Canada has not played at a men's World Cup since its only appearance in Mexico in 1986, where grouped with France, Hungary and the USSR, lost all three games and failed to score a goal.