CHARLEBOIS: A beef with greed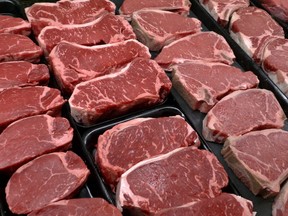 FILE PHOTO: Steaks and other beef products on display at a grocery store. Photo by J. Scott Applewhite /THE CANADIAN PRESS
We recently learned a Quebec-based group is leading the class-action lawsuit aimed at major federally-licensed beef packers.
Cargill, JBS Food Company, Tyson Foods and National Beef Packing Company are all accused of colluding and inflating beef prices since 2015. So, if you're a consumer in Quebec who's been buying beef since 2015, you can be part of the claim. The authorization application was filed in the Superior Court of Quebec and the group will hear from courts later this year.
What is perplexing about the claim is how it only aims at a handful of packers. If collusion did occur at the meat counter, many other companies would have arguably benefited from artificially inflated prices, including smaller abattoirs, and of course, retailers themselves. Margins are significant in meat in food retailing, so grocers would have also increased profits as a result of higher wholesale prices.
The claim is likely inspired by what has happened in the United States in recent months. In December, the White House released a scathing report about how profits in the meat packing sector have spectacularly increased, over 300% since the start of the pandemic.
JBS USA, one of the groups targeted by the Canadian lawsuit, approved a $52.5 million (US) settlement in a lawsuit in which the company was accused of conspiring to boost beef prices. They never admitted guilt in the deal, though. Cargill Inc., National Beef Packing Co. and Tyson Foods Inc. were also named in the case, the self-same companies mentioned in the Quebec-based claim.