Chris Rock 'weighs up big-money offers after Oscars controversy'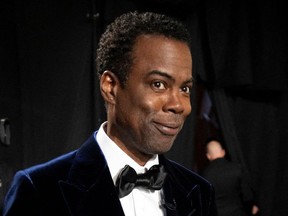 Chris Rock stands backstage at the 94th Academy Awards in Hollywood, Los Angeles, California, U.S., March 27, 2022. Photo by A.M.P.A.S. /via REUTERS
Chris Rock has been inundated with big-money offers since the Oscars.
The 57-year-old comedian was struck by Will Smith during last weekend's Academy Awards – but the controversial moment actually seems set to boost his bank balance.
The insider told The Sun newspaper: "His comedy tour is now sold out for months in advance and he has added more dates on thanks to the increase in demand.
"Chris has chosen to hold his tongue for now and it's not surprising, as there are big money negotiations going on behind the scenes for his first chat.
"Oprah [Winfrey] and Ellen [DeGeneres] have both shown interest in securing the first sit-down interview with Chris about the slap and the aftermath."