Douglas Todd: The painful demographics of homelessness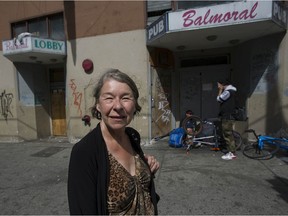 "Many men become disposable at certain times in their lives," says Judy Graves, the city of Vancouver's former advocate for the homeless, explaining why 68 per cent are male. (File photo: 2017, Downtown Eastside.) Photo by Jason Payne /PNG
They are injured construction workers who need to kill the pain, ex-soldiers with trauma, spouses escaping conflict and First Nations members who can't get housing on their reserves.
Such histories are common among the men who make up 68 per cent of all homeless in British Columbia, according to Judy Graves, who spent three decades as a champion for people forced onto the street and into shelters, including as the city of Vancouver's full-time homeless advocate.
Many of the men, according to 25 counts across the province, come from the unusually high proportion of Indigenous people, former military personnel and Black Canadians who are homeless.
Almost two of five homeless residents are Indigenous, even though Indigenous people make up only one in 20 of the population. Six per cent served with the military or the RCMP, which makes them "vastly overrepresented" among those without a home.
For the first time, the provincewide count included data on race. While it found 63 per cent of the homeless are white people, which is roughly equivalent to the overall ratio, it discovered three per cent were Black people, even though only one per cent of B.C.'s population is Black.