EDITORIAL: Trudeau reverses course, drops carbon tax as of April 1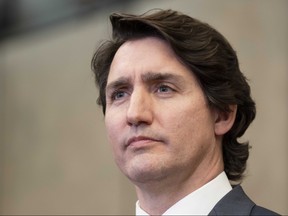 Prime Minister Justin Trudeau Photo by Adrian Wyld /THE CANADIAN PRESS
Prime Minister Justin Trudeau is doing a major reversal and dropping the controversial carbon tax as of April 1, the Sun has learned. This comes on the same day that the Liberal government was previously expected to increase the carbon tax.
A statement from the Prime Minister's Office obtained in advance exclusively by the Sun reveals that inflation and the cost-of-living is what spurred Trudeau's change of heart.
A bystander reportedly offered to buy the cheese for the PM upon seeing his struggles at the cash register. It's unknown if Trudeau accepted the stranger's money.
The carbon tax reversal comes after Alberta Premier Jason Kenney decided his province would temporarily stop collecting the provincial gas tax, which adds 13 cents per litre to the price of gas.
While the Liberals had previously touted that the federal carbon tax would be revenue neutral, a new report from the Parliamentary Budget Officer reveals that the majority of Canadians will now pay more in carbon taxes than they receive back in the form of rebates.