Electric vehicles save drivers thousands of dollars over life of vehicle: Report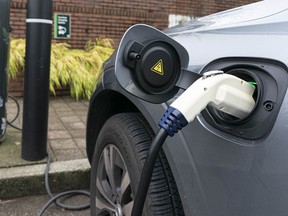 Electric vehicles are an increasingly popular choice as the price of gasoline goes through the roof. Photo by Richard Lam /PNG
Buying an electric vehicle could save tens-of-thousands of dollars over the life of a vehicle, according to a new report from Clean Energy Canada, a climate and clean energy program at Simon Fraser University.
The report compares the total ownership costs of electric vehicles compared with their gas-powered equivalents, from purchasing, to refuelling, to maintenance.
Assuming gas prices of $2 per litre, Chevrolet's popular battery-powered Volt offers nearly $30,000 in savings over the eight-year life of the vehicle, when compared with the similar, gas-powered Toyota Corolla hatchback, according to the report.
While the bulk of savings from buying an EV come from lower fuel prices, reduced maintenance costs also make a significant contribution. Maintenance costs for a 2022 Chevrolet Bolt, for example, are nearly half that of a Toyota Corolla hatchback, a comparably priced gas vehicle.