'Extreme' supply chain snafus hit lumber industry, forcing output curbs as prices hover near record
Canfor shifts to four-day workweek after running out of room to pile boards amid railcar shortage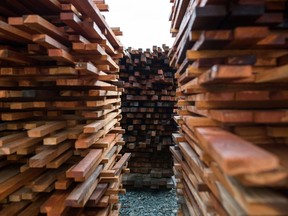 Lumber has become a symbol of the supply chain chaos that's hit industries over the past couple of years. Photo by James MacDonald/Bloomberg
The strangest lumber market in memory keeps getting stranger.
Canfor Corp., one of North America's biggest lumber producers, said this week that it will shift to a four-day workweek at most of its 11 mills in British Columbia and Alberta starting April 4; not because of inadequate demand, but because it's run out of room to pile the boards that customers are ordering at a startling rate.
"We are experiencing extreme supply chain challenges," Don Kayne, chief executive of Vancouver-based Canfor, said in a press release on March 31. "It has become imperative to reduce operating schedules to address our unsustainable inventory levels."
The main issue appears to be a shortage of rail cars in Western Canada, where Canadian National Railway Co. and Canadian Pacific Railway Ltd. are struggling to keep up with the post-pandemic surge in demand for virtually every commodity that Canada exports in bulk. That means companies have been piling up inventory, as they wait for the railways to clear their backlogs. Things got so bad for Canfor that it ran out of space; the company said the new production schedule will reduce output by at least 100 million board feet at a time when lumber prices are sitting near an all-time high.
Article content
Lumber has become a symbol of the chaos over the past couple of years. The initial COVID lockdowns came as many mills were scaling back production, but homeowners with nowhere to go splurged on renovations, resulting in an unanticipated surge in demand for construction materials, sending prices to a record high.
Sawmills ramped up production, which tugged record prices back to earth for a little while. Then, prices surged anew as Canadian and U.S. housing markets took off again.
Data about pricing varies, but in 2020, benchmark southern lumber reached $1,169 per thousand board feet, nearly double the previous all-time high $589, while western lumber prices were close behind, according to an investor presentation on the website of Quesnel, B.C.-based West Fraser Timber Co. Ltd., Canada's largest lumber company by market capitalization. It was great for West Fraser and its shareholders: the same presentation included a chart suggesting the company's profit margins from North American lumber spiked to an all-time high above 25 per cent in 2020.