Father and son coming-of-age comedy Drinkwater kicks off Reel 2 Real Film Festival for Youth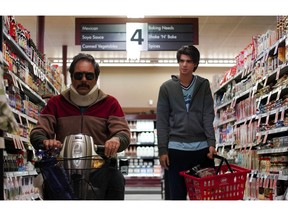 Eric McCormack, left, and Daniel Doheny are a father and son that are both struggling to live their best lives in the Stephen Campanelli-directed film Drinkwater. The comedy, where Penticton plays itself, is the opening film for this year's Reel 2 Real Film Festival for Youth on April 3-13, 2022. Photo by Luke Fraser /PNG
Reel 2 Real Film Festival for Youth
When: April 3-13
The R2R festival, which also runs vibrant school programs, is an in-person and online event this year, boasting 10 feature films and 60 shorts from over 30 countries and Indigenous Nations.
"It's a real honour and a pleasure to be a part of it," Campanelli said during a recent phone call from his Vancouver home about the R2R opening slot.
When Campanelli isn't directing his own films, he can usually be found working as a camera operator alongside director Clint Eastwood, who he has been employed by for the past 28 years.