GESSAROLI: Artificially low interest rates — we're paying the price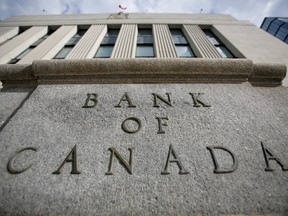 A sign is pictured outside the Bank of Canada building in Ottawa on May 23, 2017. Photo by CHRIS WATTIE /REUTERS FILE
By: Jerome Gessaroli
Canadians are feeling the effects of rising inflation everywhere from the grocery store to the gas station. In response to the highest level of inflation in three decades, the Bank of Canada recently increased its policy interest rate to 0.50% after holding it steady at 0.25% for two years.
For instance, the Bank of Canada's low interest rate policy has encouraged many Canadians to take on greater mortgage debt, fuelling widespread increases in home prices and real estate bubbles in Vancouver and Toronto. Housing affordability has decreased, and larger household mortgages have made Canadians more susceptible to financial distress, in the event of job loss or even moderate interest rate increases.
Low interest rate policy also contributes to wealth inequality by supporting higher equity values. Over the past 10 years, during which the Bank of Canada's policy interest rate has hovered between 0.25% to 1.75%, the Toronto Stock Exchange had average annual returns over three times greater than annual wage growth. As high-income earners are more likely to hold stocks and in greater amounts, these statistics point to growing wealth disparity. Indeed, Bank of Canada Governor Macklem recently acknowledged this impact of the Bank's actions.