GOLDSTEIN: The real costs of Trudeau's carbon tax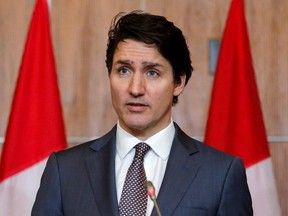 Prime Minister Justin Trudeau speaks at a press conference in Ottawa, Tuesday, March 22, 2022. Photo by Patrick Doyle /REUTERS
Prime Minister Justin Trudeau's carbon tax, which rose by 25% to $50 per tonne of greenhouse gas emissions on Friday, doesn't just increase the cost of gasoline.
The tax, which came into effect in 2019 at $20 per tonne and increases annually on April 1, applies to 22 types of fossil fuel energy.
Here's a look at the full impact of Trudeau's carbon tax from now until 2030. (All figures rounded.)
On April 1, the carbon tax on gasoline increased to 11 cents per litre, rising to 37.4 cents in 2030.
The carbon tax on natural gas increased to 9.8 cents per cubic metre, rising to 32.4 cents in 2030.