HANSON: History should be our guide in Ukraine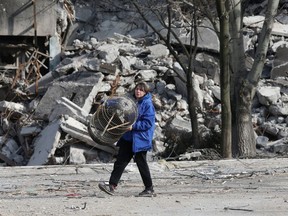 A local resident carries a cage while walking past an apartment building destroyed during Ukraine-Russia conflict in the besieged southern port city of Mariupol, Ukraine March 31, 2022. Photo by ALEXANDER ERMOCHENKO /REUTERS
There are several historical referents we should keep in mind about the Ukraine war.
First, no-fly zones. Lots of Westerners are calling for NATO aircraft to establish a no-fly zone above Ukraine to stop the Russian bombing of Ukrainian cities.
Eventually the air patrols withered away. Often allies bickered about their relative contributions. Sometimes the zones failed to stop ongoing anarchy on the ground. Enemies often still used low-flying ground assault helicopters.
The United States never attempted a no-fly zone against either nuclear Russia or China during the Cold War – despite a long history of these countries supplying wartime enemies of ours. No nation wishes to risk Armageddon over the skies of a third party.
Second, regime change. There has been a lot of wild talk – from Joe Biden and various U.S. senators on down – about removing or assassinating Russian President Vladimir Putin to achieve "regime change" in Russia.