ICBC bill to cyclist reinforces need for riders to have insurance, advocates say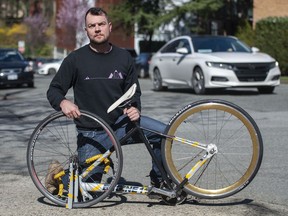 Ben Bolliger holds his broken bicycle recently at Willow Street and West 7th Avenue in Vancouver, where he was hit by a young driver behind the wheel of a Mercedes last July. Photo by Jason Payne /PNG
A year ago Derek Wilson had dismounted from his bicycle to use the crosswalk on Comeau Lake Road in Coquitlam when a sports car turning right hit him, swooping him onto the car's hood and windshield with his bike on top of him.
He was unhurt, but news this week of ICBC billing Vancouver cyclist Ben Bolliger for more than $3,700 for damage to a car that hit Bolliger as he cycled through a controlled intersection in a bike lane gave Wilson pause.
If you join Cycling B.C. there is liability insurance provided for organized club events, but that insurance wouldn't cover a club member who found themselves in Bolliger's shoes.
Postmedia News asked ICBC on Thursday for data regarding the number of letters such as Bolliger got that have been sent out and how much the corporation has sought to recover from such accidents, but was told that would take more time to track down.
Since the provincial government passed legislation in early 2020, ICBC has had a no-fault policy for almost two years now.