KINSELLA: Throwing around the word 'dictator' unhelpful and corrosive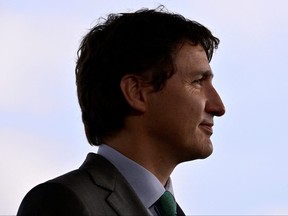 Prime Minister Justin Trudeau speaks to media at the GLOBE Forum 2022 in Vancouver March 29, 2022. Photo by Jennifer Gauthier /REUTERS
Look, Justin Trudeau is many things.
He's disinterested in ethics, as evidenced by his appalling conduct in serial scandals — the Aga Khan, SNC-Lavalin, the WE "charity."
Now, Thomas didn't cite any polling or research to back up her claim. We don't even know if she consulted with the good people of Lethbridge (who this week lost a truly honest and decent representative, former Senator Joyce Fairbairn, who succumbed to Alzheimer's after many years of suffering).
What Thomas said was neither honest nor decent. It was deeply stupid. Trudeau can be fairly accused of many, many misdeeds (see above). But is it really necessary to liken him to real dictators, like Russia's monster, Vladimir Putin, or China's, Xi Jinping? Really?
Now, we shouldn't be surprised to see this kind of idiocy coming from Thomas. Just a few weeks ago, she was again in the news — for posting an InfoWars-style nutbar video.