Millennial Mom's Review: 2022 Infiniti QX80
The second-row is first class all the way, the third-row is more like economy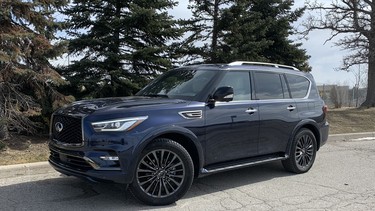 2022 Infiniti QX80 Photo by Renita Naraine
During my week with the 2022 Infiniti QX80, I had to make a trip to the airport to pick up my mom and aunt. They compared the QX80 to being driven home in a limousine. It's not quite that long, but the QX80 might as well be a small plane — that will never take flight.
I've never piloted a plane, but I am often the pilot of vehicles. Even when not the pilot, I'm the stewardess who is frequently passing back snacks and drinks to impatient passengers.
The QX80 doesn't guzzle as much fuel as an actual plane (duh), but for an SUV, it's quite the guzzler of premium gas. It has an average fuel consumption of 15.1 L/100 km, 17.5 city and 12.2 highway.
If the QX80 is like a plane, the front seats belong to the pilot and co-pilot. The second row is for first-class passengers who can enjoy heated seats, and the squishy third row is undeniably economy, and I'm talkin' the dreaded back row that's right beside the bathroom.
I wouldn't use the infotainment dial and buttons placed in the centre console, especially since I have my seat pushed forward a little more than average (I'm short), making it a bit uncomfortable to reach back for those controls. I appreciate that the QX80 gives the option of a touch screen, though the 12.3" screen is on a bit of an angle, tilting towards the front of the car. It's odd, but it's not a deal breaker.