More women are household breadwinners, changing the conversation on finances
Gen Z and millennial women are reporting higher earnings than their partners.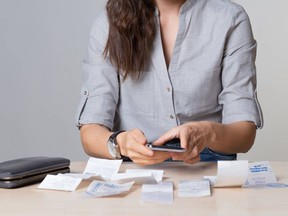 Trismegist san/Shutterstock
Helena Smith, a personal injury lawyer from Burlington, Ont., is married with three kids and has been the breadwinner of her household for nearly 25 years.
"It's been a challenge to be the primary breadwinner in a practice that, while lucrative, has periods of inactivity … So I think, in retrospect, it was pretty gutsy for me to take this on with the income for the entire family dependent upon my business," says Smith, who represents survivors of sexual abuse and victims in personal injury litigations.
"But each family has to do what's right for them."
Smith's husband chose to be a stay-at-home parent while their children were young. He currently does some contract work and helps out with her business, but Smith has usually managed the household finances as the primary income earner.
"I know the amount of money that is coming in. I'm the best one to handle all of this."
Article content
Financial planning for a female breadwinners
"The big thing is, career women have a lot to juggle. Just because they are professionals with budding careers, that doesn't necessarily mean they're still not [putting in] labour at home," says Jackie Porter, a certified financial planner from Mississauga, Ont.
Many of Porter's female clients who are primary income earners come to her because they've been too busy to tackle their finances while dealing with the demands of their work and families.
They often want to plan for their retirement, but Porter says they tend to take less risk on their investments and focus on having a sustainable plan of action, compared to her male clients.
Sara McCullough, a certified financial planner from Kitchener, Ont., says most of her clients come to her to help manage income and expenses, regardless of how much they earn.