Motor Mouth: Electric cars are less reliable than gas ones, says study
Dragged down by Tesla, EVs are the least reliable cars on British roads, if you ask U.K. website 'Which?'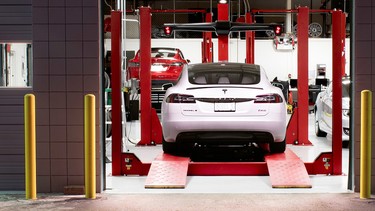 A Tesla Model S in a service garage bay. Photo by Tesla
One of the benefits of switching to electric propulsion, say the experts, is that their fewer rotating mechanical bits result in fewer breakdowns. That's the theory, at least.
In reality, a recent study in the United Kingdom by consumer website Which? says that electric vehicles are actually less reliable than their petrol-powered (that's "gasoline" in British) competitors. In fact, according to the respondents, EVs are almost twice as likely to develop a serious fault — 31 per cent for electrics, versus just 19 per cent for petrol power — as conventional cars.
According to the survey, the number one glitch needing attention in EVs was software-related. Married with the fact that, as I said, EVs were also off the road for a survey-topping average of 5.1 days every year, it'd seem there's little evidence yet of a tangible benefit to OTA updates and repairs.
Perhaps more surprising is that Tesla, the face of EVs and the manufacturer with the most experience building electrics, is the least reliable of the lot. According to the Which? survey, a whopping 39 per cent of Teslas up to four years old had at least one fault, and one in 20 had had a serious no-start situation or a breakdown serious enough that it had to be taken off the road.
Making matters worse is that, as in so many other jurisdictions, Tesla is the dominant player in England's EV segment, the Model Y and 3 accounting for almost 25 per cent of the 10,417 BEVs sold in February 2022. Extrapolate the numbers through the entire study and Tesla's fallibility may well be a large part of the reason that the Which? study found that EVs are the least reliable cars on British roads.