News Roundup: The Toyota Corolla GR, GMC Yukon Denali Ultimate, and more
Plus Toronto's streetcars aren't playing nice with Tesla's just-introduced semi-autonomous tech, Elon says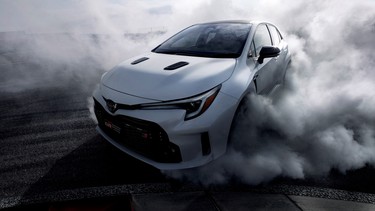 2023 Toyota GR Corolla Photo by Toyota
Welcome to our round-up of the biggest breaking stories on Driving.ca from this past week. Get caught up and ready to get on with the weekend, because it's hard keeping pace in a digital traffic jam.
Here's what you missed while you were away. 
The GMC Yukon Denali (2023 or 2024, we're not certain) was spotted out on the town in Motor City wearing what appears to be a hot new set of threads. Like the 2022 Sierra Denali Ultimate, the upcoming SUV's top-end trim will boast big alloy wheels with a multi-spoke design and polished finish. Inferring more changes from the locations of the bits of camo cover, it appears as though the Denali Ultimate will also get chrome fascias with darker elements to assert its position as the top-trim offering. We also predict GM might fit it with GM's Super Cruise or Ultra Cruise system. More details and lots more photos here. 
The winds of change at Stellantis have blown down a new 3.0-litre, inline-six cylinder turbo engine dubbed the "Hurricane." Coming standard with 400-horses and a high-output version with 100 more, the new ICE is built from a deep-skirt cast-aluminum block that Stellantis calls the "lightest weight cast block possible," and will likely find a home within a number of Ram, Dodge, and Jeep SUVs and trucks. Similar to the power plants in performance vehicles like the Nissan GT-R and Ford Mustang Shelby GT500, the new engine uses a Plasma Transfer Wire Arc Spray Bore coating to improve durability, cut weight, and boost performance, but that's far from its only performance-enhancing design feature. According to Head of Stellantis Propulsion Systems Micky Bly, "This is the best in-line engine [they] make."