Advance Theatre Festival showcases diverse voices in tales about books, biryani and Peranakans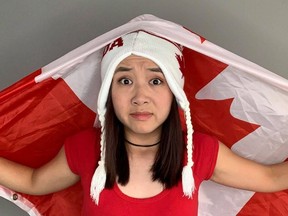 Jaymee Mak stars in Grace Chin's A Funny Thing Happened on My Way to Canada as part of the Advance Theatre Festival at the Shadbolt Centre on Feb. 7-11. Photo by Jaymee Mak /PNG
Advance Theatre Festival
When: Feb. 7-11 at 8 p.m.
Where: Shadbolt Centre, 6450 Deer Lake Ave., Burnaby, and online (livestreamed)
Tickets: $15 at tickets.shadboltcentre.com and 604-205-3000
The plays are selected from submissions from across Canada.
"Usually we get over 100, which shows how much of a need there is to showcase these voices," said Diane Brown, artistic director of Ruby Slippers. "We only have enough to do five but we're looking to expand this program."
This year's other pieces include Scheherazaad Cooper's Bibliomancer, about a young girl with a love for books who discovers a family secret that reveals a buried past.
"It's a bit of a mystery," Brown said. "She discovers a family secret and this causes a domino effect of secrets and hidden powers to be revealed."
Cooper is also a dancer and choreographer.
"It's the first thing of hers that I've read. It's a really interesting, contemplative piece," Brown said.