Artists, business owners shocked and angry after mural defaced in Chinatown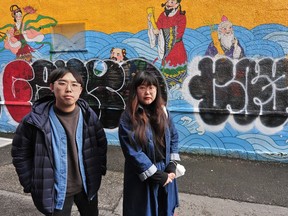 Artists Sean Cao and Katharine Yi in front of their mural which was vandalized in Chinatown. Photo by NICK PROCAYLO /PNG
The artists who created Eight Immortals Crossing the Sea in Vancouver's Chinatown are used to cleaning up graffiti and tagging on their mural, they've done it often since it was created on the side of a building in a back lane between East Georgia and Union streets in 2019.
But the most recent, and much larger defacing of their painting last week feels different to them, and to others.
Yi, Cao and two other artists worked together for nearly 12 hours a day over two weeks to complete the giant mural three years ago.
"There needs to be some accountability. They also scribbled graffiti on my sign. You can't have people destroying property and nothing is done," said Peter Lau, who has run Liang You Book Co. Ltd. for over four decades in the two-storey building which sits on East Georgia Street.
Lau let the City of Vancouver use the side of the building for its mural program. The City commissioned the painting from Bagua to promote cultural redress and mitigate graffiti. It depicts eight different deities floating across blue ocean waves with a yellow sky behind.