'Ask your child to continue wearing a mask': B.C. mom issues desperate plea to son's classmates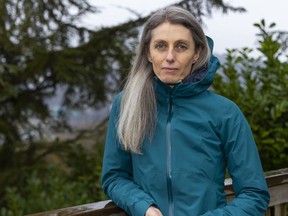 A Burnaby mother is issuing a desperate plea to the parents of her son's classmates to have them continue to wear masks in the classroom, as the boy's father is at high risk of catching COVID-19. Photo by Francis Georgian /PNG
A Burnaby mother is issuing a desperate plea to the parents of her son's classmates to have them continue to wear masks in the classroom, as the boy's father is at high risk of catching COVID-19.
"I am begging really, for you to ask your child to continue wearing a mask at school," reads a hand-typed letter from Sylvia Fuller, a University of B.C. sociology professor, who placed envelopes with the message in the cubicles of her 11-year-old's school Friday during lunchtime.
As of Friday, British Columbians are allowed to go mask-free in most public places. The mask mandate is set to be lifted in K-12 classrooms upon students' return from March break.
"Our goal has always been to have the minimal number of restrictions in place and together, we've done what is right at the right time, and now we are in a place where we can once again adjust our approach," said provincial health officer Dr. Bonnie Henry on Thursday.
However, Fuller, whose family has already had to make significant changes to their household in order for their son to return to school this term, said she feels "utterly abandoned" by the province's decision.