B.C. government announces one time $110 payment to drivers for gas price relief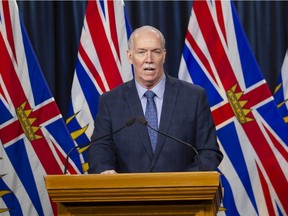 Premier John Horgan. Photo by DARREN STONE /PNG
ICBC customers will receive a one-time payment of $110 — or $165 for commercial vehicles — to help with skyrocketing gas prices, the provincial government announced Friday.
B.C. Premier John Horgan and Mike Farnworth, the minister of public safety and the solicitor general, said the rebate is meant to ease the financial burden of increased fuel costs caused by the invasion of Ukraine by Russian forces.
Eligible ICBC customers can expect to receive their rebate in May if they are registered for direct deposit with ICBC or as a refund to their credit card. All other customers will receive cheques in June.
Horgan said ICBC is in a "robust position" to offer the rebate because of its forecast annual net income of $1.9 billion for the fiscal year ending March 31.
Gas prices in the Lower Mainland were between $1.92 and $1.96 a litre on Friday, according to GasBuddy.com.