British comic Russell Howard set on giving Vancouver audience a break from the blues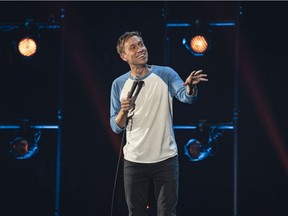 Comedian Russell Howard, seen here in a photo from his Lubricant special now on Netflix, will be doing two shows in Vancouver on April 1 at The Vogue Theatre. The British comic is currently on the road with his Respite tour. Photo by Courtesy of Netflix /PNG
He may be here on April Fools' Day but it's no joke that comedian Russell Howard could possibly hold the record for longest on-sale tickets as his Just For Laughs Canadian tour was originally announced way back in spring 2019.
"That's the record everyone wants to hold, isn't it? It's been bananas," said Howard, adding he hopes people who bought tickets turn-up.
"I really lost myself in writing jokes and thinking of funny things as a way of distracting myself from the sadness of reality. It just struck me that is the importance of comedy. Life is a battle and laughter is respite which is kind of where the tour title came from."
While laughing is important, comedy these days can be dangerous as cancel culture is constantly waiting to pull the career carpet out from under a comedian.
"What frustrates me as someone who is a huge fan of standup and who is also a standup is that the only time comedy is really in the news is if a comedian has made a mistake," said Howard, who addresses that very issue in his trending Netflix special Lubricant. "In the eyes of certain people, it is always: 'Comedian upsets audience', and that's the story when in fact the vast majority of experiences are, 'Audiences go to comedy show and have a good night, can't really remember what comedian said.' But you know, that's it. That's the truth for 99 per cent of people, but that doesn't sell.