Bryan Adams puts a smile on fans' faces with So Happy It Hurts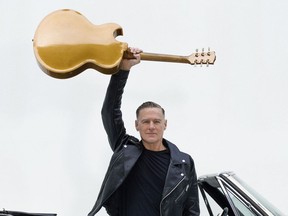 So Happy It Hurts album cover. Photo by Bryan Adams /PNG
Bryan Adams serves notice that he is in a rocking mood in the first two seconds of So Happy It Hurts. The drum beat has barely landed on the title track to his 15th album before the first "whoah-ooh-oh-oh" chorus drops and he's singing about driving down the Trans-Canada.
It's a driving disc of the sort of feel-good fun music that fans have been starved for during these weird past few years. Adams says the music certainly reflects his mood at the time he sat down to write it.
"I would put down a working vocal and guitar track live, and then build it up with drums, bass and guitar, go back and record the vocal again, and then put the finishing touches on the tune after that," he said. "I'm really proud that it worked out so well. Sometimes, you get it right and — particularly with Jim — it's happened a number of times."
Jim is Jim Vallance, his songwriting partner of four-plus decades who has also cranked out hits for everyone from Anne Murray and Rick Springfield to Joan Jett. Just prior to the release of So Happy It Hurts, both Adams and Vallance were announced as the newest inductees to the Canadian Songwriters Hall of Fame. Vallance was previously inducted for Heart's hit What About Love in 2021. Adams still sounds incredulous at the thought that a random meeting in a Vancouver music store would produce one of pop music's chart-topping pairings.