Caught on video: Arrest made after man pushed down stairs at SkyTrain station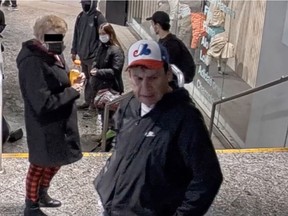 Police have released surveillance footage of a random assault that took place at Vancouver's Granville SkyTrain station on March 1, 2022. Investigators are now asking for help identifying the suspect pictured in this screen grab from the footage. Photo by HANDOUT / VANCOUVER POLICE /PNG
Just a day after police released graphic footage of a 61-year-old man being shoved down a flight of stairs at Granville Skytrain station, a suspect has been arrested.
Vancouver police say the random assault happened on March 1 at about 5:30 p.m. in the transit hub.
Investigators think the victim and suspect had "a brief verbal confrontation outside the station" before the assault.
A 53-year-old man has been arrested. He can't be named as formal charges haven't been laid.
"We had no doubt help from the public would be instrumental in solving this case, as it has with so many other high-profile attacks in the downtown core," said Visintin. "We understand how shocking this video was for some, and we are extremely grateful for the amount of views and shares this video had. Those shares on social media helped us make another quick arrest in an unsolved attack."