Charges laid in 2018 gang murder that killed 15-year-old Alfred Wong: VPD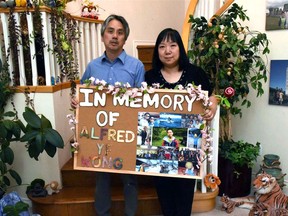 Chief Adam Palmer of the Vancouver Police Department is set to make a "major" announcement on Wednesday afternoon. Photo by VPD handout /PNG
A 26-year-old man has been charged in a 2018 double murder that took the life of Coquitlam teen Alfred Wong, who was hit by a stray bullet during an exchange of gunfire between gang rivals.
Vancouver police Chief Adam Palmer said Kane Carter has been charged with second-degree murder in Wong's killing and in that of 23-year-old Kevin Whiteside of Vancouver.
Palmer said the "long and complex" investigation involved hundreds of witness interviews and thousands of exhibits.
"While it has taken four years to arrive here, I was always confident this day would come," said Palmer, who praised the Wong family for their patience and support during an "incredibly difficult" time.
"I hope this arrest will bring them some sense of peace."