Cirque du Soleil's Alegría 'rigged' to magnificence by Masse and team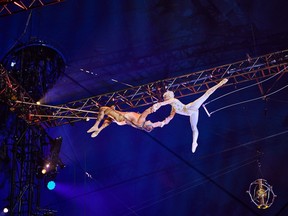 The flying trapeze at Cirque du Soleil's Alegría. 'The idea was to present something like a 'love dance' in the air with side-by-side trapezes that they wanted to be able to rotate around the stage,' says senior equipment and acrobatic riggings designer Pierre Masse. Photo by Matt Beard/Dominique Lemieux/Cir
When: March 25 – June 5, various times.
Where: Under the Big Top, Concord Pacific Place, Vancouver.
The production includes some of the more innovative trapeze design in Cirque history alongside fire dancers, contortionists and all the other spectacles one associates with the company. Thanks for much of this dynamic display goes to senior equipment and acrobatic riggings designer Pierre Masse. From the complex swinging trapeze that permits moveable trapeze heights and flight trajectory to the conveyor-like trampoline criss-crossing the stage floor, Masse and crew make it.
He was raised in a performing arts environment. His mother was a costume designer for the Montreal Opera and his father worked for 40 years in operations at Place des Arts. His entry into joining the family "stagehand" tradition followed studies in electrical engineering. This coincided with an explosion of higher-tech approaches to presentations.
"Initially, I started in the projection and lighting side of things, and actually came to Cirque in 1995 on the show Quidam as a troubleshooter, brought in by a friend who was the technical director to work out a software bug one night," said Masse. "After getting it to run without an issue, they never let me leave. I began as a contractor and now I've been here 23 years, landing in the acrobatic and rigging design and development. It's a ways from electrical engineering, but I found out I had mechanical design savvy, and here I am."