Classical music: Russian-Ukrainian keyboardist Olga Pashchenko brings Beethoven, Liszt to life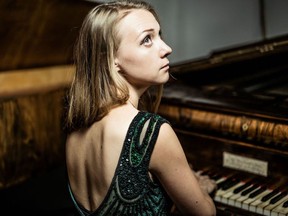 Olga Pashchenko, who calls The Netherlands home, is fortepiano professor at the Conservatory of Amsterdam in addition to her concert performances and recording work. Photo by Yat Ho Tsang
Olga Pashchenko, keyboards
When: Friday, April 8, 2022, 7:30 p.m.
Definitely something out of the ordinary, and definitely something for keyboard aficionados to sample.
Pashenko began her career early, giving a New York recital at the ripe old age of nine. As she progressed to advanced study, the world of historical keyboards opened up for her. At the Moscow State Tchaikovsky Conservatory she studied fortepiano and modern piano with Alexei Lubimov, harpsichord with Olga Martynova and organ with Alexei Schmitov.
Then she was off to The Netherlands, where she continued her studies with Richard Egarr at the Conservatory of Amsterdam. She received her master degree 'cum laude' in fortepiano in 2013 and harpsichord in 2014. Pashenko's personal and professional base is The Netherlands, and she is currently fortepiano professor at her alma mater.