Classical music: Vancouver's musica intima springs into season with pair of projects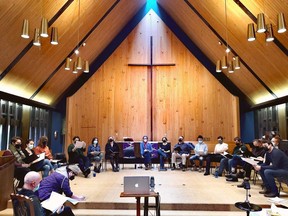 Composers and singers of the novum musica project, in which members of the musica intima vocal ensemble work with emerging composers. Photo by Risa Takahashi
When: April 9, 7:30 p.m.
Where: Christ Church Cathedral, 690 Burrard St., Vancouver.
The concert title is drawn from the program's anchor work, Millard's Towards the Light. Gramit says that composer Peter Hannan, who has a long relationship with the ensemble, recommended Millard. Several projects were discussed and the one that seemed just right was a setting of texts from Emily Carr's diaries.
Published in 1966, Carr's Hundreds and Thousands give an intimate self-portrait of British Columbia's iconic painter. Her book is a jumble of ideas, domestic concerns, family relationships, professional frustrations and productive friendships. Inevitably, Carr always turns back to her central inspiration, the British Columbia forest, often used as a metaphor for personal and spiritual growth.