COVID-19: Metro Vancouver arts scene's returnees both ready and reticent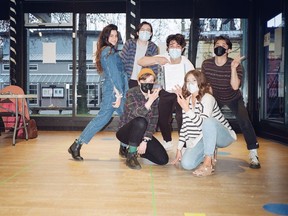 The Carousel Theatre for Young People rehearse Ladies and Gentlemen, Boys and Girls, its new show that opens March 31 to start its new season. As one of Canada's only companies catering specifically to young audiences, keeping up many features of pandemic protocols in place for the audience is an ongoing process. Photo by Valeria Scolese
To mask or not to mask?
That is but one question of the many that arts and cultural organizations are trying to answer as provincial health orders are lifted and some semblance of pre-pandemic normalcy returns. Reaching out to presenters and venues across the region resulted in a range of responses.
While Sutherland hopes it's just a phase, she is also aware of public concern.
A June 27 gig by rockers the Glorious Sons at the Clarke was sold out when it was forced to reschedule and will probably stay that way. Events geared toward younger audiences improve potential sales. How much reduced capacities become the norm is on everyone's minds at the moment.
"We're kind of easing back into normal here at the H.R. Macmillan Space Centre and still have mask mandates, although the Museum of Vancouver that shares space with us has already lifted requirements," said guest services supervisor Patrick Fergusson.