Dancing in his father's shoes, Farren Timoteo feels the outsider in Made in Italy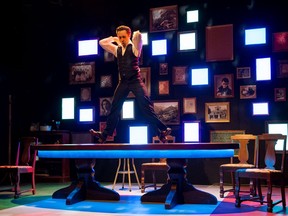 Farren Timoteo, seen here in the 2019 Western Canada Theatre production of Made in Italy at the Royal Manitoba Theatre Centre, and the Arts Club bring the one-man play to the Granville Island Stage March 17- April 17. Photo by Dylan Hewlett /PNG
Made in Italy
When: March 17-April 17
He drew on his work as artistic director with Alberta Musical Theatre Company, formerly Alberta Opera, to craft the show. The company specializes in theatre for young audiences, particularly original fairy tale musicals.
"I had written the book and lyrics with my writing partner Jeff Unger for about four or five musicals before I wrote Made in Italy," Timoteo said. "I found my artistic playwriting voice in working on those shows. I really enjoy the energy and esthetic of watching actors work hard. A few actors would play dozens of characters and dance and sing and access all their disciplines and be exhausted after the show. I felt very passionate about taking my own medicine."
As a coming-of-age story, Made in Italy prompted Timoteo to imagine his father's life as a young man. He recommends the process.