Emerging playwrights look to family, culture for inspiration in Studio 58's Six of One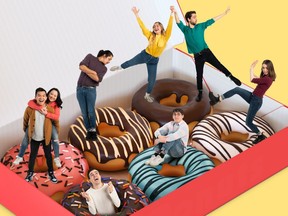 Studio 58's Six of One collects short works by emerging playwrights, including Abigail Padilla, second from left, that run from March 31-April 8 at Studio 58. PNG
Six of One: New Play Festival
When: March 31–April 8, evening shows at 8 p.m.; matinees at 3 p.m.
Theatre artists Quelemia Sparrow and Melissa Oei are directing the first and second programs respectively.
Oei, who recently performed in Pi Theatre's production of Beautiful Man, graduated from the Studio 58 acting program in 2007. For her first professional directing job, she talked to each of the playwrights before starting rehearsals.
"I'm fully aware that I'm the director, and creatively it's my domain," she said. "But I think it's valuable to hear what their thoughts and expectations are."