Everybody (except Ottawa) is declaring an end to the COVID-19 pandemic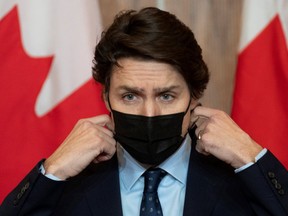 Prime Minister Justin Trudeau removes his mask as he prepares to speak during a February news conference. Even as virtually all Canadian COVID strictures are set to expire at the provincial level, Ottawa is still refusing to lift any federal mask or vaccine mandates. Photo by THE CANADIAN PRESS/Adrian Wyld
With B.C.'s announcement last week that it would be phasing out mask and vaccine mandates, all 10 provinces have now set an effective end-date to their treatment of COVID-19 as a public health emergency. By April 27 — the date when Ontario's pandemic restrictions become the last to expire — mask, vaccine and physical distancing mandates will effectively cease to exist in Canadian daily life.
Except according to Ottawa. Even as each week yields the end of another provincial COVID mandate, the federal government is continuing to hold fast to virtually every restriction it has imposed over the course of the now two-year pandemic.
Vaccinated travellers must still arrange a supervised antigen test (home rapid tests aren't allowed), and they may be randomly selected for another test at the border. Unvaccinated travellers, meanwhile, are still required to undergo mandatory 14-day quarantine, even if they provide a negative test result and aren't showing symptoms.