Follow Sci-Fi show from pitch to pilot with new podcast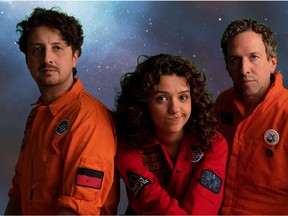 Ryan Beil, Maddy Kelly and Mark Chavez work out a TV pilot in their new CBC podcast Let's Make A Sci-Fi. With the help of some bold type people the Vancouver comics go from concept to table read over the course of eight one-hour episodes. Photo credit: Courtesy of CBC Photo by Courtesy of CBC /PNG
It takes a lot of imagination to create a science fiction TV show.
It also takes a lot of work and humility, as the new podcast Let's Make A Sci-Fi clearly shows.
Listeners follow the process through one-hour episodes.
"I think because all of them had been involved in creative projects, they came at it with, 'How can that work?' As opposed to, 'This will never work,'" said Chavez.
"I had butterflies before every interview," added Beil.