Forget pivoting: Creative community needs a new term for ongoing challenges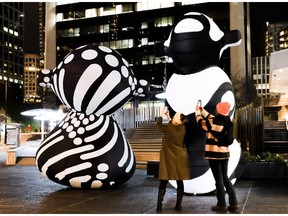 VMF Winter Arts Festival takes place Feb. 11 – 27 at various venues around the Lower Mainland with art such as this by Tafui. Photo by Vancouver Mural Festival /PNG
As the two-year anniversary of the arrival of the pandemic approaches, Donna Spencer is sick of the "P word."
The artistic producer of the Firehall Arts Centre says the cycle of announcements, postponements, cancellations, capacity caps and COVID-19 variants has trashed traditional business models. "Blind budgeting" better describes 2022.
"I'm tired of pivot because figuring out how to use the extremely limited resources you may still have to underwrite potential loss isn't that," said Spencer. "Constantly juggling what you can afford to invest in while also covering any potential losses is normal now. Every time you cancel, there are fees to artists, to creative teams, to staff. You can't say "sorry, we're not doing the show, so we aren't paying you.""
Two cancellations in January mean this season isn't off to an excellent start. Yet Spencer remains upbeat due to audience demand for live performances because during the brief rollback of provincial health orders, crowds came.
What hasn't been returning are essential technical, production and support staff. As uncertainty drags on booming Hollywood North, tech and gaming are reaping the benefits of highly experienced workers shifting sectors.
Alvaro Prol of This Is Blueprint says the whole prospect of providing content for events has changed completely — again — in the past six months.
"We took down around 60 concerts between December to March after the pre-Christmas new health regulations," he said. "That makes it so hard to get people, talent — everyone you need to fill rooms, make money and stay going. People get gun shy."
This Is Blueprint operates in multiple spheres. One constant in running nightclubs like Celebrities, live music venues such as Vancouver's Fortune Sound Club and Calgary's Commonwealth, and producing Surrey's FVDED in the Park and Contact Winter Music Festival, is workers.