From snowy Ontario to sunny California, virtual runners look forward to this year's Sun Run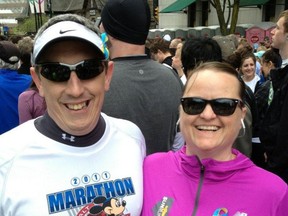 Jim and Kirsten Smith of San Diego at the Sun Run in 2013. jpg
For Sun Runners Kirsten and Jim Smith, moving from Seattle to San Diego in 2017 meant the end of a nearly two-decade annual tradition. Every April, they would drive to Vancouver and join over 40,000 others for the Sun Run.
"It was a great getaway weekend," Smith wrote in an email. "We would enjoy some 'touristy' things as well, like the Vancouver Aquarium, the Capilano Suspension Bridge, and Granville Island. We learned how to make the most out of the pre-race expo, where to enter the starting line corrals, how much we enjoyed the various bands along the route, and we appreciated all the signs from the spectators."
Virtual participants can also make up their own route. For Smith, whose California run is "flat and near the water," this is a bonus.
"I usually run 5ks," she said. "With the Sun Run, you would get to the 5k mark just before the Burrard Street Bridge. Your body thinks you're done, and then you've got this big bridge to go over." It wasn't that bad, though. "Just getting over it, that was something for us to complain about."
Across the country, in snowy Ancaster, Ont., just outside of Hamilton, Kara O'Donnell is planning on taking part in the virtual race for the first time.