Fundraising event set to raise money for Ukraine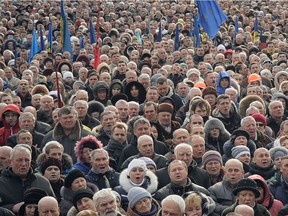 The civil uprising in Ukraine against the regime of President Viktor Yanukovych is at the heart of the film Maidan, from director Sergei Loznitsa. The movie, which was screened at Cannes in 2014, will be shown at the YVR Screen Scene for Ukraine fundraiser. The event will take place March 30 at 6:30 p.m. at the VIFF Centre. Photo by Courtesy of the Cinema Guild /PNG
YVR Screen Scene podcast host Sabrina Rani Furminger carries a reminder of her Ukrainian roots with her always. Tattooed on the Vancouverite's left wrist is her maternal grandfather Nazary Kiperchuk's name.
Furminger said she grew up listening to Kiperchuk, who left Ukraine and landed in Halifax in 1928, speak of his homeland with "longing and also with heartache." It's that homeland that has been under attack by Russia since Feb. 24 that Furminger has set up to help through the upcoming YVR Screen Scene for Ukraine fundraiser.
"In the last few years, I have been learning the language and I have been connecting with distant relatives," said Furminger, who had been planning an extensive trip to Ukraine. "I've taught my daughter about her roots. Ukraine has gone from somewhere where my grandparents were from to something that is contemporary in my life."
As of late it has become contemporary to people around the world as the Russian invasion has drawn international attention and support.
The Vancouver fundraiser will be hosted by Furminger and Vancouver Ukrainian-Canadian actor Adrian Petriw.