'I won't hesitate:' Canadian sniper in Ukraine ready to pull trigger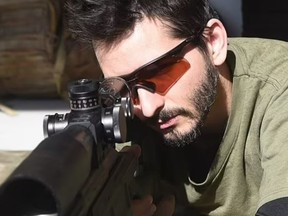 A Canadian army veteran and sniper identified as 'Wali' is hidden above the streets of Kyiv. Photo by DAILYMAIL.COM /TORONTO SUN
A Canadian sniper in Ukraine says he "won't hesitate" to take out any Russian invaders in Kyiv.
"I don't like the idea of shooting anyone. But when the time comes to squeeze the trigger, I won't hesitate," said "Wali," in an exclusive phone interview with the U.K.-based Daily Mail.
He asked to go by the nickname "Wali" in case Putin learns his identity and tries to target his family in Quebec, the Daily Mail reported, saying he was hunkered down in an abandoned building in "strategic location," near Kyiv.
Russian troops have advanced to within 24 kilometres of Kyiv, despite fierce resistance; however, Wali said he and his fellow freedom fighters have the upper hand once Putin puts his troops on the streets.
"This is a huge, built-up city, not some village. Looking out from where I am now, I can see so many structures and buildings to shoot from, so many places to hide weapons and launch ambushes from. They won't know what has hit them," he told the Daily Mail.