Innovative design trends for post-pandemic condo living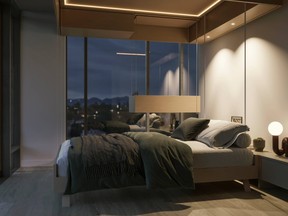 Every Gryphon Nova home is equipped with a unique smart furniture system. SUPPLIED
Even though COVID-19 will eventually downshift from a pandemic to an endemic, one unalterable fact remains about the virus: it has changed how we view our living spaces, the most obvious example being that 32 per cent of Canadians between 15 and 69 now work mostly from home, according to Statistics Canada.
This, combined with a growing demand for on-site amenities and services, is spurring a change in the design of multi-family residences, most evident in the creation of Gryphon Nova in Vancouver's South Oak district – a project by Gryphon Development which utilizes the services of Bumblebee Spaces. "We no longer think of homes as having a static footprint," says Sankarshan Murthy, Bumblebee founder and CEO.
Gryphon Nova's one-, two- and three-bedroom homes incorporate a revolutionary interior concept to make the most of living and working at home, and this is made possible by utilizing the nine-foot ceilings in each suite. Specifically, a smartphone-activated system stores furniture overhead, in an aesthetically pleasing oak modular unit. "The items drop down only when you need them and retract back into the unit when you don't," Murthy says. "That includes your desk with all of your stuff on it, storage space and a bed, along with ambient lighting." If you're exercising, everything can be cleared out of the way with a touch of your smartphone; and at night, it can be just you and your bed.
In addition to flexibility, other essentials of post-Covid design include smart and touchless entry access, clean and sanitized common areas as well as plenty of fitness, social, work and entertainment amenities to support a holistic lifestyle. In short, while it's important to utilize every square inch of space, it's vital that the home is an incredible one given the increased amount of time people will be indoors – something that informs every aspect of Gryphon Nova.