Metro Vancouver welcomes the Year of the Tiger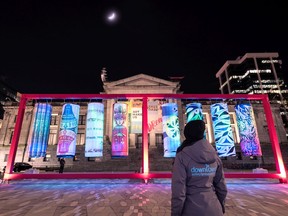 Lunarfest lanterns glowing at night in downtown Vancouver. Photo by Courtesy Downtown Vancouver Busi /PNG
There will be feasts. There will be lucky red envelopes. There will be lanterns. As the next new moon appears in the night sky on Feb. 1, Lunar New Year begins, welcoming the Year of the Tiger.
And like every other holiday during these past few years, Lunar New Year festivities will look very different as COVID-19 public health orders continue to restrict celebrations, typically involving crowds, cheering and sharing of food and drink.
But with more than 700,000 Vancouverites with Southeast Asian or East Asian lineage, even as physical distancing precautions continue, the spirit of Lunar New Year blazes on. Imagine a celebration so joyous it binds people of the thinnest relations into family ties; a festival so epic it spans over two weeks; an event so steeped in legend it conjures up dragons. This is the most important holiday for many in Asia, and its presence and significance grow in Vancouver every year.
Of course, the dragon dance in Chinatown and the Lunar New Year's Eve countdown in Aberdeen Centre in Richmond have become important holiday mainstays. But other events, like LunarFest, are trying to bring this celebration out from Vancouver's Asian enclaves and to a wider audience. LunarFest is a Vancouver 2010 Winter Olympics legacy event designed specifically to showcase all the joys and beauty surrounding Lunar New Year and make it inclusive.
"We really wanted to welcome people beyond traditionally Chinese-speaking communities… Lunar New Year is a celebration in so many different cultures," says Charlie Wu, managing director of LunarFest.
Even if you've never heard of LunarFest, it's likely you've still seen one of its striking lanterns glowing in the winter night somewhere in the city. Its main art installations use traditional Chinese lanterns as muses and reinterpret them for contemporary audiences. Each stands 10 feet high, three feet wide, sheathed in original artwork.