Mike Tyson de-escalates tense situation with gunman at Hollywood bar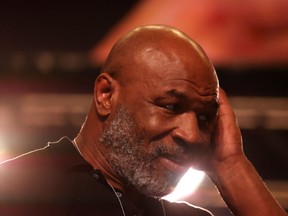 Former Heavyweight champion Mike Tyson looks on during the official weigh-in between Canelo Alvarez vs Caleb Plant on November 5, 2021 at the MGM Grand Garden Arena in Las Vegas. (Photo by Al Bello/Getty Images) Photo by Al Bello /Getty Images
A man who pulled a gun on Mike Tyson after challenging him to a fight got a very unexpected reaction from the boxer – a hug.
The incident took place at a rooftop bar in Hollywood where Tyson and some friends showed up to attend a comedy show.
Tyson, who appeared unfazed and sat calmly throughout the entire ordeal, called the man over.
Tyson was patient and simply listened to the man, who got close enough to shake hands with his apparent idol – before Mike pulled him in for a hug.
Cops were never called, TMZ reported.