Nanaimo photographer Shane Gross wins international storytelling award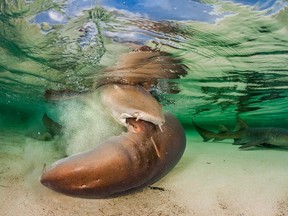 Nurse shark mate in the shallows of The Bahamas. Here a male bites the pectoral fin of the female and tries to pin her to the seabed for copulation while a second male waits for his turn in the background. Photo credit: Shane Gross Photo by Shane Gross /PNG
Nanaimo photographer Shane Gross has been named one of the winners of this year's Ocean Storytelling Photography Grant , presented by the Save Our Seas Foundation (SOSF).
From a field of 150 entries from 47 countries, Gross was one of four winning photographers chosen for his "exceptional talent and great promise as a marine conservation storyteller," according to a statement from SOSF.
Gross's winning images were taken in Campbell River as well as The Bahamas.
"It all began as a love for sharks," said Gross in a statement. "As a kid, I was a huge shark nerd and begged my parents to get me a pet shark we could keep in the bathtub. Every piece of clothing I owned had sharks on them. I wished I could be one of those people making the images and wondered how they did it. Then in 2007, Sharkwater came out, and I realized how badly my beloved sharks were in trouble."
"I always felt attracted to the still image rather than a moving one. You can stop and study a still image, and you can put your images in places where people who wouldn't see Sharkwater can see them," said Gross.
According to Thomas Peschak, SOSF Director of Storytelling and a National Geographic photographer, Gross's work showed a strong command of both underwater and above water photography.
"One of the grants strongest entries when it comes to visual diversity and narrative creativity. You can tell that he pushes himself to try new things and that he is 100% committed to conservation storytelling," said Peschak in a statement.
Gross, along with the other winners, received $2500 and will undertake a three week paid photographic assignment to document a SOSF-supported marine research or conservation project. The foundation has funded more than 400 projects in more than 85 countries.
This year's other three winners were Alaska's Acacia Johnson, Californian Gabriella Angotti-Jones and Sarang Naik, of Mumbai, India.