Ndidi O fights music industry blues with foundational songs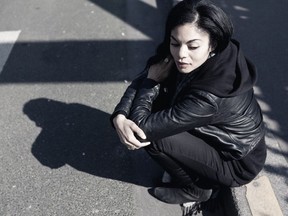 Ndidi Onukwulu performs at the Shadbolt on March 31. Photo by Franco P. Tettamanti /PNG
Ndidi O
Where: Shadbolt Centre Studio Theatre, 6450 Deer Lake Avenue, Burnaby
A: No. It's better for life. Winter sucks. I did originally come down here for music stuff. I recorded my last two albums down here and have some connections. It's good to be here. I've built a bit of community. It's a good place to write. Nothing is close, so it's easy to isolate and work on your art without distraction.
Q: What can you tell us about the new album with Trish Klein?
A: We met in Paris many years ago. We always talked about working together. Then the pandemic happened and Trish approached me about this project. It's our reinterpretations of traditional blues/folk songs from the early 20th century by women artists, predominantly African-American women — people like Memphis Minnie, Sister Rosetta Tharpe, Elizabeth Cotten. All these women were foundational in creating the music we make today. They don't get the credit they deserve. We're calling ourselves The Blue and Gold. The album is coming out April 30.