Police blockades bring Saturday peace and quiet to neighbourhood around B.C. legislature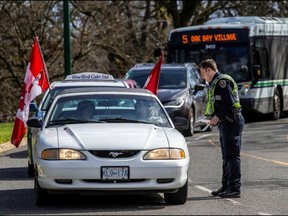 Victoria police officers check vehicles at a roadblock on Superior Street near Douglas Street as police closed off James Bay to all but local traffic on Saturday, March 19, 2022, ahead of expected protests at the legislature. Photo by Darren Stone, /Times Colonist
With a larger, cross-Canada convoy expected to hit the Lower Mainland and Victoria in the next couple of days, Victoria police used the smaller, weekly legislature protest against COVID mandates to try out some new measures.
Though he wouldn't concede that Saturday's action was a dry run for a larger event, Const. Cam MacIntyre said the force's use of checkpoints to limit access to the legislature precinct to local traffic only would be around for as long as required.
However, the Canada Unity website says trucks are on their way to Vancouver and Victoria to protest vaccine mandates and indoor mask orders. It suggests the convoy will be in Merritt and Hope Sunday after crossing from Alberta into B.C. on Saturday.
MacIntyre said Victoria police would debrief and make adjustments as necessary.
Saturday's checkpoint measures turned away a lot of vehicles — part of the B.C. Freedom Convoy that included vehicles that left the north Island area earlier in the day — from the legislature Saturday afternoon, and forced protesters to park outside the area and walk to the grounds.