Private collection stunning centrepiece for new Griffin Art Projects show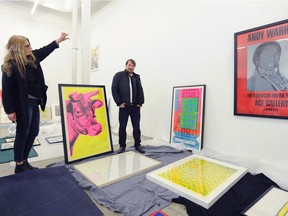 Curator Lisa Baldissera and collection owner Grant Mann with pieces from the Gerd Metzdorff Collection that will be shown at the Griffin Art Projects gallery in North Vancouver until May 8, 2022. Photo credit: Nick Procaylo/PNG Photo by NICK PROCAYLO /PNG
Per Diem: The Gerd Metzdorff Collection
When: Until May 8
Where: Griffin Art Projects in North Vancouver
Tickets and info: Free in person and online events, griffinartprojects.ca
"I was just floored when I heard about it. It was just incredible to hear about the type of work and the number of works in the collections," said Dr. Karen Tam , an artist and Griffin Art Projects adjunct curator, from her home in Montreal recently.
As part of this show's free public programming, Tam will hosting the April 24 (1 p.m.) virtual event From the Eye Straight Down to the Soul: A Panel on How Collecting Begins.
As for how collecting began for Metzdorff, the title of the show offers a hint. Early in his flying career, instead of spending his daily per diem on duty-free cologne or cognac, he saved it up to buy art. The idea that a food allowance could become a feast of contemporary art is a reminder that art collecting isn't just for hedge fund managers and oligarchs.